This week's program comes to you from Calgary, Alberta where I have been attending the 2015 Canadian Farm Writers Federation Annual Conference. Alberta is new territory for me and on Friday we started out with a day of farm tours. I've got videos from each of my tour stops to share this coming week.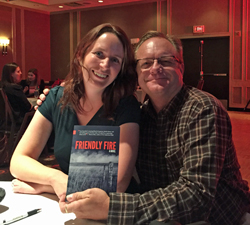 Things got down to business on Saturday. After the CFWF business meeting I spoke with organization president Lisa Guenther. She talks about the program and some of the things CFWF deals with in terms of membership and the industry their members report on.
Lisa has also just published her first novel, "Friendly Fire," which you can purchase on Amazon. At our closing banquet she autographed a copy for me.
Listen to this week's program here: Canadian Farm Writers
I have a lot of photos from the conference uploaded but more to come as soon as I get back to ZimmComm World Headquarters: 2015 CFWF Annual Conference Photo Album