It's not too early to look ahead to the National Agri-Marketing Association Fall Conference. This year it is taking place in Denver, CO, September 22-14.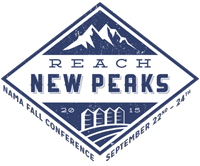 To learn what it's all about I spoke with Committee Chair Alison Berry, HLK. She says the theme, "Reach New Peaks," really hits on the location and on the fact that since everyone is trying to reach a new level in their career, this conference will help them reach new peaks! If you haven't attended a NAMA Fall Conference you'll find it more relaxed than the spring convention which has much more activity surrounding it. Alison says this year's Fall Conference features an early arrivals reception. I have to say that more parties sounds good to me. But it does allow for more networking which is one of the best things about attending any NAMA function.
Alison reviews the program this year including all the speakers who are on the schedule. To get registered just go to the NAMA website.
Listen to my conversation with Alison in this week's program: Preview of NAMA Fall Conference