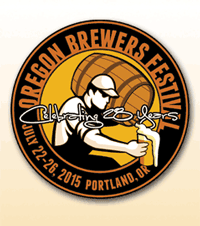 Summertime means farm festival time around the country. Just do a web search and you'll find them. If you have a favorite you would like us to feature, just leave a comment and/or link and we'll get it done.
Here's one that caught my eye this morning for some reason. The Oregon Brewers Festival. It's coming up quick. July 22-26, Waterfront Park in Portland, OR.

Pouring 90 different craft beers from around the country – plus 15 beers from New Zealand and The Netherlands in the International Tent – the Oregon Brewers Festival is the quintessential celebration of craft beer! On a sun soaked July afternoon, there's no better place to sip suds with friends along the banks of the Willamette River, with the Portland skyline as a backdrop to the west and Mt. Hood towering in the east. Whether you prefer Belgians or Blondes, Pales or Pilsners, Saisons or Wits – come to the Oregon Brewers Festival, and see for yourself why we're one of the world's best loved craft beer festivals.