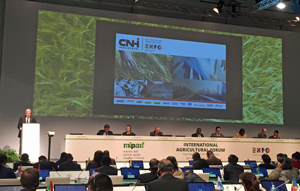 Last week New Holland Agriculture Brand President, Carlo Lambro, spoke during the International Agricultural Forum that was held at Expo Milano 2015. His comments focused on the company's commitment to securing the right of healthy, safe and sufficient food for all by responsible investment in agriculture and food systems. This week I will get to meet with Carlo at Expo Milano 2015 where he will greet a group of agricultural media representatives on Wednesday.

The theme of the universal event taking place in Milan, Italy, "Feeding the Planet, Energy for Life" drove discussions at the Forum organised by the Italian Ministry of Agriculture, Food and Forestry (MIPAAF). The issue at hand was that of the global food challenge. Open to discussion was the issue of seeking a just balance between availability and consumption of resources by using efficient and accessible technology in order to achieve a sustainable future.
Carlo Lambro, a member of CNH Industrial's Group Executive Council and Brand President of New Holland Agriculture, delivered a presentation during the Forum session on Agriculture and Food Security. In his speech, Mr. Lambro highlighted the development of CNH Industrial's innovative solutions which seek to accomplish long-term sustainability: "By providing innovative products, technologies and solutions for the agriculture, transport and construction sectors that abide by environmentally responsible operating practices, CNH Industrial is doing its part to address global issues such as nutrition, food security and climate change."

See the full news release here (pdf).