National Ag Day activities are conducted by the Agriculture Council of America. This year's Chair is Colin Woodall, National Cattlemen's Beef Association. In this week's program I talked with Colin about the work of the ACA and this year's activities. I also spoke with Amy Bradford, GROWMARK, an Ag Day sponsor and sponsor of my coverage of Ag Day activities as well as the weekly ZimmCast.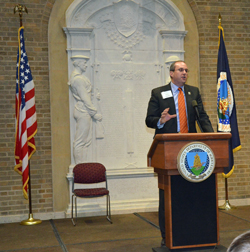 Colin says that the ACA works to "make sure Ag Day is a success." That effort has been going on for 42 years. Besides the national events in Washington, DC there are events all over the United States and he says it provides a great opportunity for agriculture to tell it's story.
Amy says that as an organization supplying 250,000 customers in the U.S. and Canada, GROWMARK feels it is necessary to be visible supporting farmers and the Ag Day activities provide them with a venue to do that. Additionally, GROWMARK sponsors several of the students being brought in to our nation's Capitol on Ag Day.
You can get more information on how to support the ACA and Ag Day at AgDay.org.
Learn more about Ag Day and how you can support it in this week's program: Ag Day 2015