Let's learn together what the AgWatch Network is all about in this week's ZimmCast. During the Mid-South Farm & Gin Show I met Network General Manager Terry Simmons seen here talking with show attendees from their booth.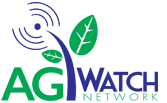 The AgWatch Network is about seven years old and was founded by now U.S. Congressman Rick Crawford from Arkansas. That puts them right into the heart of the delta region and the Mid-South show is where their listeners come together.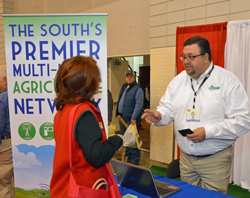 Terry says the company not only has a farm radio network but has also invested a lot into their online services and also offers a text based market prices service.

Located in the heart of Delta agriculture, AgWatch is uniquely positioned to provide agriculture producers and related businesses with up to the minute farm news, commodity market data, weather, and river stage information.
AgWatch Network is made up of over 52 radio station affiliates in five states (Arkansas, Kentucky, Mississippi, Missouri and Tennessee).

Learn more about the Agwatch Network in this week's program: Agwatch Network
Mid-South Farm & Gin Show Photo Album
Our coverage of this year's Mid-South Farm & Gin Show is being sponsored once again by FMC.