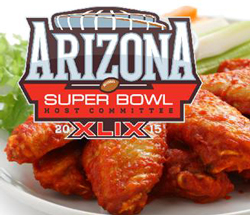 The Super Bowl is just days away. The game is very important to many, but we want to focus on another aspect of the game…and no, I don't mean the commercials. Those are great, but lets talk about Super Bowl food. Our current ZimmPoll asks you to name your favorite Super Bowl party food and one of those choices is wings.
Did you know that 1.25 billion wings will be consumed on Super Bowl Sunday? To put that into perspective, the National Chicken Council said, "if 1.25 billion wing segments were laid end to end, they would stretch back and forth from CenturyLink Field in Seattle to Gillette Stadium in Foxborough, MA almost 28 times. And 1.25 billion wings would circle the Grand Canyon 120 times."
The National Chicken Council 2015 Wing Report also showed that four in five U.S. adults eat chicken wings, which holds steady from last year. Over half (56%) like to eat wings with ranch dressing and only about 36% prefer blue cheese dressing. BBQ sauce even beat blue cheese, coming in at 42%.
Wing eaters were also asked if they preferred bone-in or boneless. According to the survey, 54% like the traditional bone-in wings while 46% chose boneless. They were also asked which segment of the wing was their favorite. 46% like the drumette and only 25% would rather have the flat. The whole wing was preferred by only 10% and almost 20% will eat them anyway they can get them.
It's clear wings sales spike during the week leading up to the Super Bowl. But did you know that the concept of cooking wings in peppery hot sauce was born in 1964 at the Anchor Bar in Buffalo, NY? The owners would cook leftover wings in hot sauce for a late-night snack for friends. Soon they were added to the menu, served with celery and blue cheese, "Buffalo Wings" were an instant hit. They started promoting the item around the country and it gradually caught on.
So how did the trend team up with football? In the 80's consumers began to prefer boneless-skinless breast meat, wings soon became an inexpensive byproduct for chicken producers. Restaurants and bars realized they could sell low priced protein and since it was spicy and salty, it paired perfectly with beer. The popularity of TVs in bars grew and the most common sporting event to watch with friends in bars was football. Wings were an easy "group food" to share and so the "pigskin-chicken wing bond was born."
Tom Super with the National Chicken Council talks more about wings and football in this interview: Interview with Tom Super, National Chicken Council