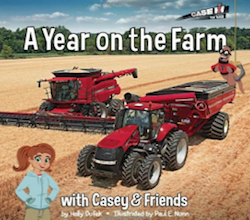 "A Year on the Farm," a new educational children's book from Case IH, introduces children, ages 4 to 8, to modern farming, showing how the tractors, combines and other equipment are needed to plant and harvest crops. The first in a series from Case IH, "A Year on the Farm" is filled with colorful photography, fun illustrations and a cast of cartoon characters.
Casey the farmer, Tillus the worm, Big Red the tractor and a whole team of cartoon equipment characters teach children about the many different jobs on a farm. Through the seasons, children learn that modern farming involves yearly planning, responding to the weather, caring for animals and working hard as a team. The book provides details on how different types of equipment on the farm contribute to the production of the food we eat every day. Educational sidebars are presented in simple, kid-friendly terms. Plus, the picture glossary and fun farming facts share information in an entertaining way.
Published by Lee Klancher's Octane Press, the book continues a long tradition of farm equipment books published by the respected author/photographer. Author Holly Dufek holds a master's degree in education and has written educational curriculum development materials for many years. Illustrator Paul E. Nunn is a full-range artist who has worked for Disney, Nickelodeon and LucasArts.
"A Year on the Farm" is the first in a complete series about Casey and her Case IH cartoon friends. "Big Tractors," "Combines" and "Planters and Cultivators," coming soon in 2015, will cover how and why the equipment works on the farm. Each book will have a mix of real-life photography, cartoon characters, fun facts and easy-to-follow glossaries.
"A Year on the Farm" is available for purchase at select Case IH dealers, on www.shopcaseih.com or Amazon.com.