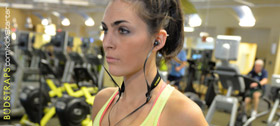 There are a lot of Kickstarter campaigns going on and I will continue to sift through them to bring your attention to something that today's AgNerd would be interested in.
Here's one with a product called BudStraps. I don't know about you but I don't always want to have my earbuds in my ears. So what do you do with them, especially if you still want them easily available so you can just put them back into your ears? Well Bill Woodward and Jared Green have come up with a brilliant product idea. Here's how they work:

BudStraps keep your earbuds where you need them – safely around your neck – fastened firmly with a spring-loaded proprietary clip. The neoprene strap can be washed in warm water and dries quickly, and the new Sport cord will be even lighter and more sweat-resistant.
BudStraps can be used with both round and flat cord styles, and the clips allow you to easily re-position them on as needed. Like to color coordinate? BudStraps come in a variety of strap colors.

Bill and Jared need to raise $10,000 by Dec. 18 and are well on their way. See their website for donation ideas and levels. Hint: Companies that are looking for a cool logo'd giveaway in 2015 will find an option just for them!