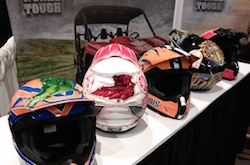 To learn more about the partnership between Yamaha Outdoors and the Agricultural Communicators of Tomorrow, I spoke with Van Holmes, a Yamaha Outdoors representative at Ag Media Summit. For several years, Yamaha Outdoors has sponsored a scholarship to help cover costs for college students to attend Ag Media Summit.
"This year we received a number of great applications from five different chapters, and to show our appreciation to those chapters we've created these custom made helmets that we've presented to the chapters here at Ag Media Summit. One of the conversations we always have here at Ag Media Summit is how to continue to promote and raise awareness for safe, responsible use of vehicles. So, we thought hey, let's make some really cool helmets and let the students help us talk about these cool helmets in a very positive way online."
In addition to the five custom made college themed helmets, Yamaha Outdoors also had their brand new Viking VI outdoor vehicle on display. The six passenger vehicle was newly released in June and features many components that make it unlike any other model on the market.
To learn more, you can listen to my interview with Van here: Interview with Van Holmes