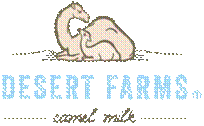 Make every day a hump day with camel milk from Desert Farms. I requested a sample and tried it this morning on my cereal. I won't deny being a little skeptical and cautious. However, this milk tastes great! Very smooth, rich and creamy. Kind of what I miss with all this watered down milk we have now. Desert Farms milk comes from small farms here in the U.S. with 6 or less camels on them.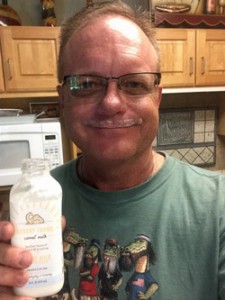 Mention the words "camel milk" to most American consumers and the look you'll get will likely fall somewhere between incredulity, bemusement and outright dismissiveness. It's a look entrepreneur Walid Abdul-Wahab has seen a thousand times. But it's the look of surprise, joy and satisfaction he invariably sees from these very same skeptics after a single glass of camel milk that has changed his life and may very well soon change the lives of milk lovers and health-conscious consumers in the United States forever.
Introducing Desert Farms Camel Milk, America's first retail camel milk brand and perhaps the most unusual and long overdue addition to the fast-growing trend toward Middle Eastern cuisine in this country.
Available in select Lassen's Market and by the end of June in 40 Whole Food Markets in Northern California, as well as direct via the company's www.desertfarms.com website, Desert Farms camel milk is 100% wholesome, raw and natural; packed with special proteins, calcium and a full 70% of our suggested daily value of Vitamin B1; a good source of potassium and phosphorus; and only 110 calories per serving.
Perhaps best of all, Desert Farms camel milk (which is also free of GMOs, additives, preservatives and hormones) is truly delicious – smooth, refreshing, sweet and far more natural than the overly-processed milk we've settled for all our lives.
Containing only milk from U.S.-based camels and bottled entirely in America, Desert Farms Camel Milk is available in several distinct varieties: Raw Camel Milk; Raw Camel Milk (Frozen); Raw Camel Milk Kefir; Pasteurized Camel Milk; Raw Camel Milk Colostrum (1st); and Raw Camel Milk Colostrum (Regular).