Porcine Circovirus (PCV2) began to present considerable issues in the sow herds in the United States in 2005 and 2006 and the disease has been in the forefront of research for the last several years. Dr. Robert Desrosiers, professional service veterinarian, BI, Ltd, Canada, has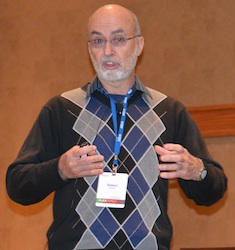 been reviewing the research to determine if there is a benefit to vaccinating sows for PCV2. The results of this research was the focal point of a recent presentation he gave to hundreds of veterinarians around the world during Boehringer Ingelheim's Swine Health Seminar.
He noted that right now the industry agrees that just vaccinating sows for PCV2ab does not work. He explained that the industry knows it needs to vaccinate the pigs, but what he wanted to determine is if there are extra benefits of vaccinating both the pigs and the sows.
More specifically he looked to the research to see if vaccinating sows would improve the reproductive performance of the sows and whether or not the vaccination of sows and pigs could have either a negative or positive impact on pig performance.
Dr. Derosiers found four side by side studies that looked at CircoFLEX and the reproductive performance of sows. Two of the studies did not see a positive impact – in other words it did not improve reproductive performance- but he noted that the reproductive performance of these two herds was already really high. The other two studies, he found, demonstrated an improvement in reproductive performance.
Dr. Derosiers concluded that there are situations where sow vaccination will improve reproductive performance. He also noted that overall, the research is in favor of sow and pig vaccination.
Learn more about the benefits of vaccinating both sows and pigs by listening to my interview with Dr. Robert Desrosiers. Research Shows Extra Benefits of Sow + Piglet PCV2 Vaccinations
Check out the BIVI guest adventures in the BIVI Big D Swine Health Seminar photo album.