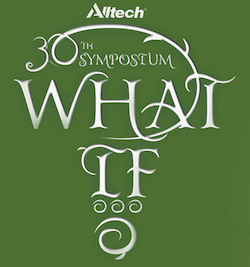 Knowledge and planning provide a sense of relief, particularly in business. Business and Technology, one of the six major sessions during "What If," the 30th Annual Alltech International Symposium will help attendees stay worry-free by asking, "What if there are faster ways to predict the future?" The session will offer businesses strategies to maximize efficiency by embracing technological innovations and marketplace opportunities. It will take place in downtown Lexington, Ky., USA from May 18-21.
Evoking curiosity with its theme, "What If," the Symposium will focus on the areas of Crop Science, Life Sciences, Africa, Modern Farming, The Algae Opportunity, and Business and Technology – all primary topics of focus which will feature notable, expert speakers from around the world.
During the Business and Technology session, Dr. Damien McLoughlin, professor at UCD Michael Smurfit Graduate Business School, will address the question of, "What happens next?" and share his knowledge on strategic succession planning to ensure the life of a business.
"The greatest investment in business is always in management," McLoughlin said. "The opportunities in global agribusiness are so great today, that no firm, family-owned or otherwise can ignore the challenge of finding, developing and empowering the next generation of managers and leaders. At the Alltech International Symposium, we will discuss this issue and identify practical points that you can use to improve your business."
Dr. Aoife Lyons, licensed clinical psychologist and director of Alltech's Career Development Program, will also speak, explaining the benefits of psychometric testing in hiring excellent talent, debunking fears and myths about psychometric testing, and outlining the economic benefit to companies. Eighty-five percent of companies in the Forbes 500 use psychometric testing as part of the hiring process. Making sure people have the right skills but equally, matching a potential employee's personality with the corporate culture of their team is imperative.
The Business and Technology session will address other questions as well, including:
– What if there were simpler, alternative ways to achieve the same objectives in business?
– What if micro-loans were available for new businesses?
– Where do you look for funds?
– What if it is not about big data, but about the right data?
– What if your business is not completely connected?
Registration for Alltech's 30th Annual International Symposium is open now and available for an early discount price of $599 until April 10. Standard registration after April 10 will be $850. Two paid registrations from a single company or organization will receive a third registration free of charge. Delegates who are members of ARPAS and AAVSB can also earn CEUs.