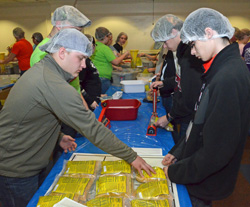 In just a short amount of time these FFA students packaged 20,000 nutritious meals for the Mid-South Food Bank during the Mid-South Farm & Gin Show held in Memphis, TN.
This doubles the number of meals put together last year. The endeavor was part of an outreach program by Kids Care.
The Mid-South Food Bank was founded 1981 and is a member of Feeding America, the national network of food banks. There mission is to: To fight hunger through the efficient collection and distribution of wholesome food, and through education and advocacy. The non-profit focuses on feeding children, families and seniors throughout the Mid-South area.
Tim Price, Mid-South Farm & Gin Show Manager said, "I think it is important for FFA kids to learn that the food you produce really goes someplace, it goes to real people. This is an investment from two standpoints. Number one is the food that goes into this food bank as a result of this packaging effort is nutritionally balanced with vitamins and minerals in it. I think it is one of the highest quality foods for it's purpose that's in the food bank pantry. Secondly, they get to see where it goes. It's a hands-on experience and it's amazing to see in such a short amount of time how many packages can be done."
2014 Mid-South Farm & Gin Show Photo Album