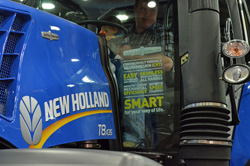 At the recent Farm Machinery Show in Louisville, KY Chuck spoke with New Holland's Gary Wojcik, Segment Marketing Manager for large horsepower tractors. He shared some insights into their Tier 4B Solutions series launch later this year.
"What we are looking at here is the highest horsepower row-crop tractor we offer," Gary said. "This is our latest Tier 4B Solution. This is the final of the Tier 4 and this product has won an AE50 award for the Tier 4B Solution. In comparison to other company's we have a distinct advantage in the fact that we stick with the solution we had before, which was an after treatment. We are the only company that can do that."
Gary goes on to explain how this transition benefits their customers ability to move from tractor to tractor seamlessly. Fluid efficiencies between Tier 4A & B are better then before as well. Both of these are part of the ECOBlue™ Hi-eSCR technology, which maintains efficiency and productivity for products over 120hp.
Gary said that he thinks the education level has hit most of their customers. They understand that Tier 4 is here and what New Holland's message is. Later this year you will be able to see more about New Holland's Genesis T8 Series tractors and this summer customers you can look forward to seeing what New Holland has in store for 2015 and future years to come.
You can listen to the interview with Gary here: Interview with Gary Wojcik
National Farm Machinery Show Photo Album

Coverage of the National Farm Machinery Show is sponsored by
FMC
and
New Holland Agriculture