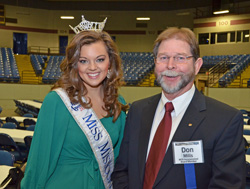 Welcoming us to the start of the MFA, Inc. annual meeting is Don Mills, Chairman of the Board. He's pictured here with Shelby Ringdahl, current Miss Missouri. Shelby will be signing the National Anthem for us.
I spoke to both of them prior to the start of today's activities. Shelby says she's seen a lot of local companies come and go already in her life and to be able to be on stage with MFA celebrating 100 yrs. is "wonderful."
You can listen to my interview with Shelby here: Interview with Shelby Ringdahl
Don is a beef cattle farmer from Southwest Missouri. He's been Chairman of the MFA board for 4 years and says he has as fun job today. On the program will be Missouri Governor Jay Nixon and Senator Roy Blunt.
You can listen to my interview with Don here to learn more about MFA and how it is celebrating 100 years: Interview with Don Mills