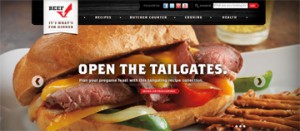 Millennials and other beef consumers can now see and hear the tantalizing sights and sounds of "Beef. It's What's for Dinner" messages without putting down their mobile devices or leaving the comfort of their keyboards and social-media circles.
That's thanks to a Sept. 25 decision by the 20-member Beef Promotion Operating Committee to make a major shift in strategic direction for the checkoff's promotion and marketing efforts. Beginning this month, digital marketing will lead the way in sharing beef's message about nutrition, health and research and creating a forum for consumers to publically share and celebrate their love for beef.
In recognition of the importance of marketing via electronic devices — such as smartphones, tablets, cell phones, computers and consoles – the committee approved the shift from an print and radio campaign to digital marketing via multi-media beef messages on email, blogs and social networks.
Using geo-tracking, the checkoff can send marketing messages to a very tight target audience whose preferences, food likes and lifestyles fit the checkoff's target audience. In other words, the checkoff can pinpoint exactly who it wants to reach with beef messages.
The ability to geo-target means that producer and importer investments in the checkoff will be focused tightly on consumers who are most likely to move the needle on beef demand. Social and digital media provide the beef checkoff a clear and focused way to deliver beef-centric information, enabling consumers to select and prepare beef enthusiastically.