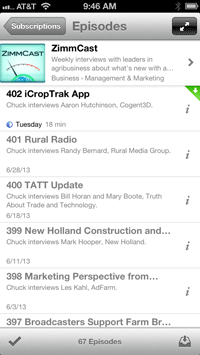 Way back when ZimmComm New Media got into the new media business we started blogging and podcasting. Guess what. We are still blogging and podcasting. My weekly ZimmCast podcast is now on episode 402!
I remember when people looked at me like I was from another planet when I told them about blogs and podcasts. There were a lot of those, "That'll never catch on" kind of comments. But they did catch on and are more important as communication channels than ever. I recently wrote about subscribing to RSS feeds with the demise of Google Reader. RSS is what drives the subscription mechanism for all kinds of things and that includes podcasts.
Most of you have a smart phone of some kind. If you aren't using them to subscribe to podcasts then what are you waiting for? You don't have to listen to the same songs out of your music library all the time. How about a little news and information? The ZimmCast is one of your options. This is the link you use to subscribe to.
So what apps work well for podcast listening? Let's start with iOS for iPhones/iPads. The Podcast app is good but a new one I'm using is Instacast. That's what you see in the screenshot. It is very easy to use, letting you find and subscribe to those podcasts you want. On your Android device you might try Pocket Cast or Podkicker.
Got questions about podcasting? Want to create one for your company or organization? Let me know how I can help.