Becker Underwood and BASF hosted ag media representatives on Friday for a tour of the plant facility in St.Joseph, Missouri with an update on inoculant and polymer technology, as well as progress on the integration of Becker Underwood into the new Functional Crop Care division of BASF.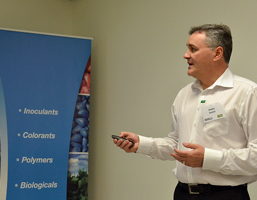 BASF officially closed the deal to acquire Becker Underwood last November and announced some of the integration logistics during the Seed Expo in December. Becker Underwood president and CEO Peter Innes says they have made steady progress to make that happen since that time. "We've been dealing with the most important aspect of the business, which is the people," Peter said. "We're now focusing on this new Functional Crop Care business and the components of that business which are seed solutions, biological solutions and solutions beyond crop protection, which deal with abiotic stresses and challenges of that nature."
Innes has headed up Becker Underwood for over a decade and has now accepted the position of global senior advisor to the Crop Protection Division with BASF. "This has been my life's work, particularly biologicals," he said, noting some of the difficulty in letting go but that he believes that Becker Underwood is in good hands with BASF.
Listen to my interview with Peter here: Dr. Peter Innes, Becker Underwood chairman & CEO
Get more audio and photos from the Becker Underwood plant tour on AgNewsWire.AgWired.com.