There's a new class of chemistry available now for soybean growers to help fight resistant weeds, including Palmer amaranth and waterhemp.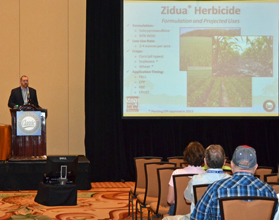 BASF's Crop Protection division is pleased to announce federal registration of Zidua® herbicide in soybeans.
According to 10 years of research and field trials, the residual weed control provided by Zidua herbicide lasts up to two weeks longer than other herbicides currently on the market, which helps protect growers' yield potential.1 Research also shows Zidua herbicide provides up to 10 percent better performance than other residual herbicides in controlling Palmer amaranth and waterhemp.2
"Zidua herbicide provides growers with a new class of chemistry and is an excellent product on its own, but can also be used effectively with Kixor® herbicide technology," said Greg Armel, Ph.D., Technical Market Manager, BASF. "Soybean growers can now combine the fast, effective burndown and enhanced residual control benefits of Kixor with the residual control of Zidua herbicide for long-lasting weed control."
Zidua herbicide can be tank-mixed with Kixor herbicide technology products to form a preplant and preemerge combination that combats tough, resistant weeds with up to three different sites of action. Zidua herbicide can also be applied with a range of use rates, allowing soybean growers to select the best rate for their specific needs, based on soil textures in their fields.
Greg did a presentation on Zidua during one of the WIN Sessions at the 2013 Commodity Classic, when they had just heard the soybean residue tolerances had been established. "We're very excited that Zidua is finally coming along and with its extended residual weed control on Palmer amaranth and waterhemp, it couldn't have come at a better time," Greg said. BASF received registration for Zidua in corn last June.

Listen to my interview with Greg here where he talks about Zidua and the importance of different sites of action to control resistant weeds: Interview with Greg Armel