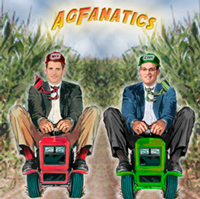 We've been promoting the AgriVisor AgFanatics podcast for a couple of months now here on AgWired and I finally got a chance to get the two hosts of the show on the phone to find out more about them.
The AgFanatics are AgriVisor Account Manager Cory Winstead and AgriVisor Risk Management Specialist Nick Klump and they started the podcast back in December.
"It's something I had been wanting to do and thought it was a good opportunity to share ag news in a fun and informative way and have a good time," Cory said about starting the show, noting that they sit next to each other every day and talk about stuff so they wanted to show to be like that – just two people conversing about the markets, risk management, the weather, and whatever impacts agriculture. Even though the podcast is barely three months old, AgFanatics has already established a very solid listener base. "It's been good feedback so far, all positive," Nick said.
The AgFanatics give a great deal of credit for the production of the show to Alan Jarand and RFD Radio Illinois who encouraged them from the start. "He said you guys can use my studio, I'll help you," Cory said. "Once we did it the first time, he said I'm holding you accountable to come down here and do this every week. If it weren't for him we may have only done three shows and stopped because of the difficulty of it. He's been a huge asset to have."
Listen to my conversation with the AgFanatics here: Interview with AgFanatics