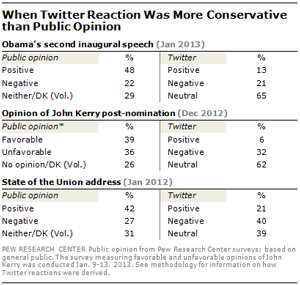 I love Twitter but have wondered for some time how the "voice" you hear compares to the general public, most of whom are not using Twitter. I am no fan of The Pew Research Center but they just came out with some interesting results from a project on just this subject.

The reaction on Twitter to major political events and policy decisions often differs a great deal from public opinion as measured by surveys. This is the conclusion of a year-long Pew Research Center study that compared the results of national polls to the tone of tweets in response to eight major news events, including the outcome of the presidential election, the first presidential debate and major speeches by Barack Obama.
At times the Twitter conversation is more liberal than survey responses, while at other times it is more conservative. Often it is the overall negativity that stands out. Much of the difference may have to do with both the narrow sliver of the public represented on Twitter as well as who among that slice chose to take part in any one conversation.

It's also interesting to keep in mind that only 13% of adults say they use Twitter. And you might be interested to know who is using Twitter.

Twitter users are not representative of the public. Most notably, Twitter users are considerably younger than the general public and more likely to be Democrats or lean toward the Democratic Party. In the 2012 news consumption survey, half (50%) of adults who said they posted news on Twitter were younger than 30, compared with 23% of all adults. And 57% of those who posted news on Twitter were either Democrats or leaned Democratic, compared with 46% of the general public. (Another recent Pew Research Center survey provides even more detail on who uses Twitter and other social media.)

I believe that Twitter should still be considered a useful agvocating tool. In fact, when you look at who uses Twitter I think this study shows that it is a very good audience to reach out to and engage with. Keep in mind how often the mainstream media is publishing tweets in their newscasts and stories. What do you think?
Read more about the study here.