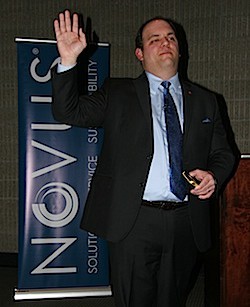 The International Poultry, Feed & Meat Expo's have joined forces this year to bring you the International Production & Processing Expo.
The trade show doesn't open until tomorrow, but for poultry scientists from around the world, events like the Novus Luncheon brought a new-found insight into the changing world of the food industry.
As attendees enjoyed lunch, Andy Vance, Staff Editor for Feedstuffs, was introduced with the statistic that 1 out of 5 consumers call knowing where their food comes from equals a status symbol. Andy continued to discuss how we impact consumer trends.
"This is a huge change in terms of the perception that consumers have about what really is their priority when they go to the grocery store. I got to credit USFRA for doing the research behind that data. And what they found back in November, was that about 21% of consumers say food knowledge is a status symbol. An even high percentage of New Yorkers, almost 50%, said that food knowledge is a status symbol. Well, what does that mean? It means that instead of a Rolex or a Lexus, if you're a foodie, that's sexy, for lack of a better word. Consumers want to know more about their food. We have known that for a few years in agriculture, but I think this evolution of it just being something that people are interested in or a passing fade, to actually becoming a status symbol is a bigger issue. It's something we can't take for granted, consumers are going to forget."
Andy went on to share that this trend in consumers demand is something substancial and something the food industry needs to remove from the back burner. Consumers and farmers have more in common than what we all realize and we must all be honest with each other about who we are.
Check out my complete interview with Andy here: Interview with Andy Vance
International Production & Processing Expo Photo Album