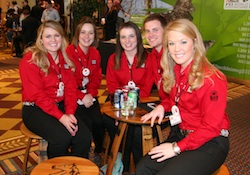 There was no way you could miss the National Beef Ambassadors at Global 500. They were the sharp looking young people in matching bright red shirts. I took the opportunity to talk with them and walked away completely motivated by their enthusiasm for the beef industry.
These newly selected ambassadors come from all over the US and spend the year traveling to tell the story of the American beef producer.
Meet the team:
Emma Jumper, Arkansas
Chandler Mulvaney, Alabama
Jacquelyn Brown, Oregon
Katie Stroud, Califormia
Erin Morrison, Minnesota
The energy this team exuberates for the beef industry shined through as they shared a cheer Chandler created. Check it out below.
Listen to my complete interview with ambassadors here: National Beef Ammbassadors