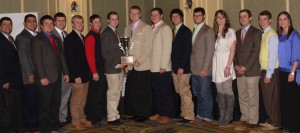 The American Meat Science Association announced winners of the International Intercollegiate Meat Judging Contest, held Nov. 18, 2012, at Tyson Foods, Inc. in Dakota City, Neb. In total, 99 contestants representing 16 teams participated in the contest.
Top Individuals, Senior Division:
1. Bo Hutto, Texas Tech University
2. Valerie Manning, Texas Tech University
3. Brandy Cleveland, Kansas State University
4. Thomas Buckham, Kansas State University
5. Colton Christian, Texas Tech University
6. Morgan Neilson, Oklahoma State University
7. Sara Sieren, Iowa State University
8. Devin Gredell, Oklahoma State University
9. Kelsey Steketee, Michigan State University
10. William Haas, University of Illinois
Top 5 Teams, Senior Division:
1. Texas Tech University;
2. Kansas State University;
3. Oklahoma State University;
4. Michigan State University;
5. Angelo State University.
Official committee members for the Intercollegiate Meat Judging contest were John Unruh, Dale Woerner, Tom Carr, Keith Underwood, Ian Shann, Dan Hale and Darrell Dowd.