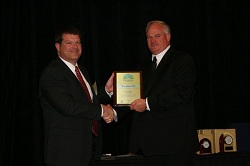 A veteran farm manager from Illinois has been named Syngenta's in North America Professional Farm Manager of the Year for 2012. Brent Bidner, accredited farm manager and vice president of Hertz Farm Management, Inc., has been providing professional farm management services for Hertz for 24 years. The Monticello, Ill. resident manages more than 18,000 acres across Illinois, Iowa, Indiana and Colorado.
Bidner's approach to managing clients' land includes taking care of the land the same way he would if he owned it himself. "I look at it as a long-term, not just a short-term, investment," said Bidner. "My goal is to leave it for the next generation in better shape than it was when I took over management of the property."
His careful management and innovative approach has paid off for long-term client, Kenway Farm. "Through a number of improvements, Brent has increased our corn production nearly 12 percent and soybean production by 10 percent when you compare pre-management averages to recent averages," said Paul Gorden, president of Kenway Farm in Blue Mound, Ill.
"Professional farm managers play a crucial role in agriculture today," said Brent Rockers, district manager for Syngenta. "At Syngenta, our goal is always to help farmers increase yield and return on investment by growing more with less. Dedicated farm managers like Brent are a key partner working with us to accomplish the exact same thing for their clients."
In addition to honoring Bidner, Syngenta made a $1,000 donation in his name to the 4-H Memorial Camp in Monticello, Ill.