It was announced during the Borlaug Dialogue in Des Moines in conjunction with the World Food Prize 2012 last week, that the makers of Plumpy'nut, Nutriset, will contribute an additional $5.8 million over the next two years to combat severe acute malnutrition in the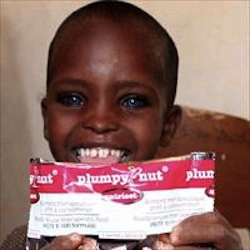 developing world. The main ingredients include peanuts, vegetable oil, sugar, vitamins, minerals, cocoa, whey and maltodextrin. Easy to digest, high in protein and high in calories, fats and carbohydrates, the product has helped to save many children's lives.
The money will go to the members of the PlumpyField network, a network of 11 small, local private manufactures, two international nongovernmental organizations and more than 500 locally based employees. The network helps to produce and distribute Plumpy'nut and other products.
"Nutriset's pledge to significantly increase our environment in our PlumpyField members will help to create local solutions to devastating food crises," said Nutriset CEO Adeline Lescanne. "We hope the $5.8 million will provide our partners with the tools they need to combat current famines and help promote the nutritional autonomy of all afflicted regions of the world."
View the World Food Prize Photo Album here.
AgWired coverage of the World Food Prize is sponsored by Elanco