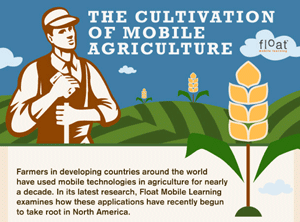 Float Mobile Learning has several new research papers available for purchase that deal with the use of mobile technology and agriculture. According to their infographic forty percent of farmers own a smartphone and ninety four percent own a mobile or smart phone. Of course we know it's a lot and that's why we went directly to an app so you can get AgWired easily on your iOS or Android device!
Here's one of the papers currently available from Float Mobile Learning:

Future Uses of Mobile Technologies in Farming, Fishing and Forestry
The early and rapid growth of mAgriculture in developing areas of the world is due to the fact that in developing countries, mobile phones may be the only widespread computing and communications technology that is avail­able. In contrast to American agricultural publications, African and Asian newsletters and magazines have lots of stories about the use of mobile phones in agriculture all through the 2000s. This indicates that farmers in developed countries in North America, Australia, and Europe have lots to learn from the mobile computing experiences of farmers in developing countries.
In other words, their present methods of using mobile agriculture have a good chance of being our future in North America.

According to the company news release "mobile agriculture, or mAgriculture, has existed in other parts of the world for more than a decade, but it has only recently started to flourish in North America."

"The trend in North America is to larger farms, increasing automation, and striving for greater efficiencies," said Float senior analyst Gary Woodill. "Mobile technologies will turn agriculture into more of an information business, as precision farming, geolocation data, and access to immediate market information, all become important. Consumers are also asking for more information about farming practices and the food that we eat, which can be gathered and sent via mobile devices."