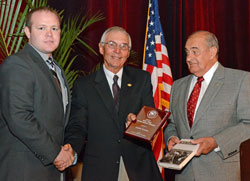 During the Cattle Industry Summer Conference two graduate students, one studying animal science and the other agricultural water management, received the 2012 W.D. Farr Scholarships from the National Cattlemen's Foundation. The $12,000 awards recognize superior achievements in academics and leadership and will allow the students to further their study in fields that benefit the cattle and beef industry. The scholarships were presented by John Lacey and Dick Farr.
First up was Curtis Pittman of Glenford, Ohio., (pictured on left) a Ph.D. candidate in animal science at Colorado State University (CSU). Pittman received his bachelor of science degree Cum Laude with Distinction in Animal Science from The Ohio State University (OSU), and his master of science degree in animal science from CSU. He expects to receive his Ph.D. in December, 2013.
Listen to remarks Curtis made here: Curtis Pittman Remarks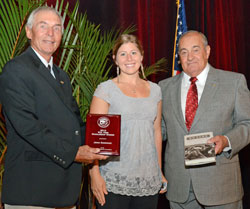 Also receiving a scholarship was Jenna Rodriguez of Linden, Calif., a Ph.D. candidate in hydrologic sciences at the University of California, Davis. Rodriguez received her bachelor of science in environmental science from UCLA, and her master of science in hydrologic sciences from UC-Davis. Her master's project involved research of irrigation techniques in the San Joaquin Valley of California.
Listen to Jenna's remarks here: Jenna Rodriguez Remarks