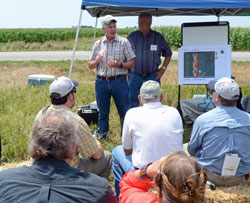 One of the nicest things about trips such as the Indian Creek Watershed Project Field Tour is the chance to see real farms with real crops growing under real conditions. Chuck stopped at Marcus Maier's farm in Illinois where they were showing split application of nitrogen on corn. Maier explained they're trying to display how varying rates of nitrogen in particular areas and depths across a field can be effective and how it fits into the overall conservation theme.
"We've always done no-till beans and minimal-till for corn, so hopefully, this is just showing us some ways to fall apply and spring apply some nitrogen to take advantage of the product itself," Maier said. He added this also cuts down on the amount of nitrogen that might leach into groundwater, showing good conservation practices in that sense.
Maier said this is the first year they are using AGROTAIN's SuperU product to control nitrogen loss. He's looking forward to the results, especially since he's heard from others that SuperU has increased yields by 20-30 bushels an acre.
Listen to more of Chuck's interview with Marcus here: Interview with Marcus Maier
2012 Indian Creek Watershed Project Field Tour Photo Album
AgWired coverage of the CTIC Indian Creek Watershed Field Tour is sponsored by AGROTAIN