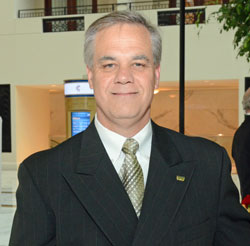 Matt Hynes, Manager, Agronomy Marketing, for GROWMARK is on the board of the American Seed Trade Association as a Regional Vice President. I spoke with him to learn more about ASTA and why GROWMARK is supportive of the organization.
To start with Matt says that the seed business is part of what GROWMARK does. "To be part of an organization like the American Seed Trade Association is important to GROWMARK and the things we do not only because we have our own seed line but because of our agricultural industry." He says GROWMARK has a large footprint in the United States and Canada and there are a lot of issues going on that they can't necessarily keep up on. "That's a huge part of what ASTA can bring to an organization like GROWMARK and those that are a part of it."
As the representative of the central region of ASTA Matt says he made a lot of calls on members recently to find out their needs. This was part of the board's work on the ASTA strategic plan to make sure they're serving the needs of all member companies, small or large.
Learn more about the work ASTA does from Matt in my interview with him as well as what's new in the agronomy area at GROWMARK: Interview with Matt Hynes