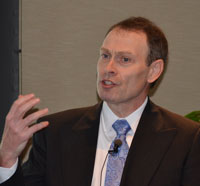 How the world's farmers will handle feeding the projected 9 billion people the earth is expected to have by 2050 … and where those farmers to feed that hoard will come from … was the subject of a presentation to the BASF Agricultural Solutions Media Summit in Chicago last week.
Christophe Pelletier, futurist and president of Happy Future Group, told the agricultural journalists gathered for the event that while technologically we should be able to produce enough food, many more questions remain… including who will own the farms of the future, will farmers be able to afford to buy their own farms, and what will be the average age of farmers 40 years in the future?
"Average age of farmers [today] is 58. [In 2050], are we going to say the average age of U.S. farmers is 90-something? Who are going to be the farmers of the future? How can we attract new people? I think that is one of the big challenges, because in the end we need food, so someone needs to produce it."
Pelletier said if we can't attract as many people to the profession, then we'll need to rely on robotics more and more … something he points is already coming to fruition in the vast array of precision-guided tools available today. He added that while some would like a one-size-fits-all solution for all of agriculture, we need to take a pragmatic approach and take the best methods learned from the best farmers and apply them to what a particular area of the world needs. And he concluded by telling the group that suppliers will also need to be more flexible and more responsive to the changing needs of their farmer clients.
"I think the magic phrase in the future is not so much, 'I have a new product and you should try it;' it's going to be 'What can I do for you.'"
Listen to more of what Pelletier had to say here:
Christophe Pelletier, futurist and president of Happy Future Group