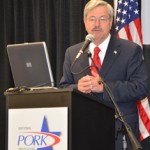 There is probably no governor in any state who is a greater advocate for agriculture than Governor Terry Branstad of Iowa.
The governor visited World Pork Expo on Thursday afternoon and had some pork for lunch before addressing some remarks to producers at the NPPC Investors luncheon. "We know how important agriculture and the pork industry are to our state," he said. "It's an exciting time to be governor of the leading pork producing state."
Branstad said Iowa is working very hard to increase trade opportunities. "We have a goal to increase exports by 20% over the next five years," he said, noting that he just returned from spending a week in China.
After lunch, Branstad took a couple of questions from the media, mostly centered on the efforts of animal activists to get rid of gestation stalls, comparing it to the recent misinformation campaign about lean finely textured beef and saying that the "last thing that we should do is follow the example of the Europeans."
Listen to or download Branstad's lunch comments here: Iowa Governor Terry Branstad
Listen to or download Branstad's press comments here: Iowa Governor Terry Branstad
2012 World Pork Expo Photo Album