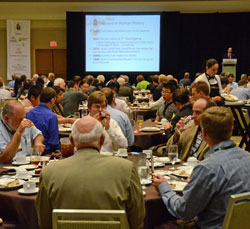 The 2012 Corn Utilization Technology Conference has come to a close and attendance was officially higher than in 2010. It has been a tremendous showcase of all kinds of research being done to continue to make new products and improve others made out of corn which is "Rooted in Human History (pdf)."
To close out the conference and give us a wrap-up I spoke with Rick Tolman, CEO, NCGA, seen here delivering his closing remarks a few minutes ago. I would echo his comments about being impressed with the young people attending the conference, many of whom submitted student posters for competition.
Rick says it's the best of times and worst of times for the corn industry. Best of times because corn growers are on the top of their game, growing the largest crop in the United States which is used worldwide in more products and applications than any other crop. However, Rick says it's also a tough time for corn growers due to a lot of uncertainties like negative media attention driven by misinformation coming from activist groups who want to change the way we grow corn and grow food. This conference helps get him enthused about the business though when you see how many new ideas are being worked on that will ultimately benefit the industry.
I also asked Rick for his thoughts on the farm bill, partnering with NASCAR and the progress of the U.S. Farmers and Ranchers Alliance which NCGA is a member of. He's optimistic about all these programs.
Listen to my interview with Rick here: Interview with Rick Tolman
You can find photos from the 2012 CUTC in my online photo album: 2012 CUTC Photo Album