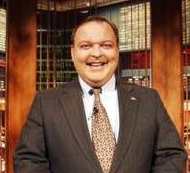 We were so saddened to hear the news this morning that Mark Pearson, the long-time host of Iowa Public Television's popular "Market to Market" show, passed away suddenly yesterday at his farm in Madison County. Mark, who was 54 years old, was also co-host of WHO-AM radio's "The Big Show."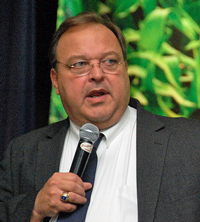 I just had the opportunity to interview Mark in February when he emceed a GROWMARK FS Pursuit of Maximum Yields event. When I asked him first to tell a little bit about himself, he said he started doing Market to Market 21 years ago. "I was 11, so I violated some child labor laws," he joked.
Mark grew up in central Illinois and after going to the University of Arizona, where he says he "studied golf," he got a job at WHO Radio and stayed. He will be greatly missed by those whose lives were touched by his great sense of humor and grasp of agricultural issues. We will pass on information about services for Mark when we get them.
Listen to my interview with Mark here. Mark Pearson Interview