Hopefully you're one of the thousands who have viewed the Farmers Fight – Stand Up video. I visited with the star of that video, Jasmine Dillon. Jasmine is a graduate student at Texas A&M University and part of the student led initiative called Farmers Fight.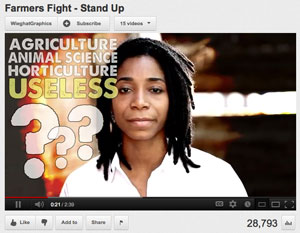 Jasmine says the initiative started when a group of students got tired of all the negative press that agriculture receives. They decided to band together to advocate for agriculture. They are not alone of course. If you read AgWired regularly you'll find that there are an increasing number of efforts to help non-farmers better understand and appreciate where their food comes from.
Jasmine was encouraged to write a poem for the project which she performed for the video. It's a type of art called spoken word or slam poetry. She first performed it for a spring training conference before it was recorded and released to kick off Farmers Fight. Hear some more of her thoughts on advocating for agriculture and the feedback she has received. We need more Jasmine Dillons!
Listen to this week's ZimmCast here: Farmers Fight and Advocate
Thanks to our ZimmCast sponsors, GROWMARK, locally owned, globally strong and Monsanto, Roundup Ready Plus, for their support.
The ZimmCast is the official weekly podcast of AgWired. Subscribe so you can listen when and where you want. Just go to our Subscribe page.