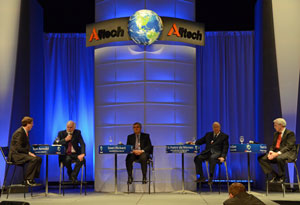 This year the Alltech debate session is titled Smart Debate. Topics include: feeding 9 billion people; is Africa now Brazil? What's next for biofuels and more. Our panelists include Tom Arnold, CEO, Concern, Ireland; Sean Richard, Senior Lecturer in Business Economics, Cranfield University, UK; Dr. Marcus Vinicius Pratini de Moraes, Former Minister of Agriculture and Food Supply of Brazil and Tom Dorr, CEO, U.S. Grains Council. Our moderator again this year is Aidan Conolly, Alltech.
Listen to my interview with Aidan in which he summarizes some take away points from the debate here: Interview with Aidan Conolly
To give you a flavor for the debate here's each panelists answer to the question: What does the future hold for us?
Listen to Tom Arnold's answer here: Tom Arnold Answer
Listen to Sean Rickard's answer here: Sean Rickard Answer
Listen to Dr. Marcus Vinicius Pratini de Moraes's answer here: Dr. Marcus Vinicius Pratini de Moraes Answer
Listen to Tom Dorr's answer here: Tom Dorr Answer