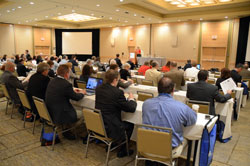 The 2012 Animal Agriculture Alliance Stakholders Summit is underway in Arlington, VA. We've just got our first session started so it will be a little while before I'll have some interviews to share.
In the meantime, I've started a photo album for you. You can find them here: 2012 Animal Agriculture Alliance Stakeholders Summit Photo Album
Thanks to the National Cattlemen's Beef Association and United Soybean Board for their sponsorship of our coverage of this year's Summit.