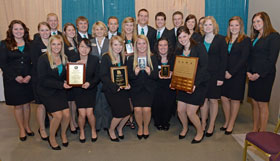 The announcement of the student NAMA team that wins the annual marketing competition at the annual Agri-Marketing Conference is always so emotional. There are smiles, cheers and tears. And you even find them on the students too!
This year the winning team is the Iowa State University Student NAMA team. I did not get to be involved in the team competition much this year so somebody needs to help me out and add a comment about what their product was. Sorry, I just did not get notes of that. However, I did capture the winners on video. Think they're excited?
The other winners included:
2nd place – University of Minnesota,
3rd place – Kansas State University,
4th place – University of Wisconsin-Madison,
5th place – Arizona State University,
6th place – University of Illinois-Urbana/Champaign.