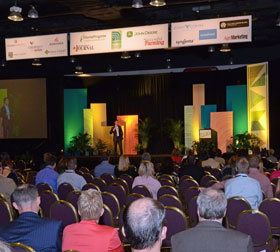 Hello AgWired fans. I've been getting a lot of questions about why our coverage of this year's 2012 Agri-Marketing Conference has been so "skimpy." The simple answer has been two words, internet access. The Sheraton here has apparently had major problems with their internet access. So I will be uploading hundreds of great photos that Cindy and I have taken including from last night's infamous Brownfield Party and R+K Pancake After Party. I've got some wonderful content to share with you so you can expect it over the next several days.
Now, getting back to the Sheraton and their internet access. After realizing the hotel lobby wireless was about the same quality as rural dialup I tried my hotel room wireless (which I am not being charged for at this point). It worked even worse and the in-room ethernet port did not work at all. So after talking more than once with hotel customer service we had an ethernet cable dropped off that actually had broken connectors on the ends! Not sure why they dropped it off. However, on a follow up phone call I was assured that a technician would show up. He never did even though I waited an extra almost half hour for him. So, being the social guy I am I posted about this on the Sheraton corporate Facebook page. Here's the exchange:
Chuck Zimmerman
Guest room wireless not worth paying for at Crown Plaza in KC, MO. Only getting .47Mbps down, .21Mbps up right now. Ethernet cable connection doesn't work at all. Already had one tech look at it. Terrible. Lobby wireless almost non existent too.
20 hours ago · Like
Sheraton Hotels & Resorts Hello Chuck,
Can you please clarify which hotel you are staying at. We have The Sheraton Suites Country Club Plaza, Sheraton Kansas City Hotel at Crown Center and The Westin Kansas City at Crown Center. Once we have this information we will contact the hotel to further address.
Thank you
20 hours ago · Like
Chuck Zimmerman
The Sheraton KC, MO Crown Center. Used to be a Hyatt. Last time I called customer service he promised a technician within 30 minutes. After 45 min I had to leave. No one showed up. Earlier in the day a technician dropped off an Ethernet cable with broken end connectors. It didn't work. We've tried on both PC and Mac.
17 hours ago via mobile · Like
Sheraton Hotels & Resorts
Thank you for this information. A manager will be reaching out to you to further assist. If you would like to discuss this matter further with us please feel free to email us at smassistance@starwoodhotels.com.
16 hours ago · Like
So, at this point it has been 16 hours since that last written promise of contact. Nothing. I at first thought that this was cool. They were responding on a corporate level even though local management wasn't doing a good job. However, a social media response is not worth much if there is no follow through. It makes for a good lesson in how a company can use social media, or should I say, not use it correctly?
Post Update:
Here's the rest of the FB thread to this point. And, no, no one left me a message on my room vm. That's not true.
Chuck Zimmerman No one reached out to me at this point. Never had this kind of service at this hotel. I'm guessing your takeover and management changes are still a work in progress. Oh well. Thanks anyway.
Yesterday at 8:49am · Like
Sheraton Hotels & Resorts Hello Chuck Zimmerman, We understand a manager left a voice mail for you in your guest room yesterday. If you have already checked out and are unable to speak to a manager, please email us at the above address so we can have someone follow up with you directly.
Yesterday at 10:40am · Like
Agri-Marketing Conference Twitter hashtag – #NAMA12.