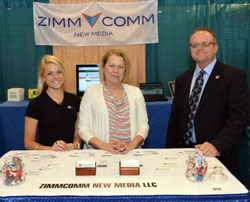 The 2012 Agri-Marketing Conference trade show known as the Connection Point got off to a great start tonight. Here's the ZimmComm team including our daughter Caitlin on the left with Cindy and myself. If we didn't get to see you there yet then please stop by sometime tomorrow and pick up your screen cleaner since Cleanliness is next to Appiness. Here's to hoping you've got the AgWired App on your smart phone.
The internet access in the Sheraton is horrendously slow in all forms, including lobby or paid in the room and I have not had much luck with either my AT&T hotspot or Verizon one either. A new batch of photos is uploading from today. Maybe they'll all be there by tomorrow morning. One can only hope.
Remember to use the conference hashtag in your tweets – #NAMA12.