Mother's Day is just around the corner and if you really want to give her a special gift – how about nominating her for America's Farmers Mom of the Year?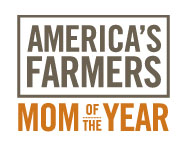 This is the third year that Monsanto has partnered with American Agri-Women to judge the entries, which will be accepted until April 23. Each of five regional winners will receive $5,000 and will be featured on AmericasFarmers.com from May 1–12, where online voting will determine the national winner. The new America's Farmers Mom of the Year will be announced on the site on Mother's Day, May 13, and she will receive an additional $5,000. Entries are judged on how mom supports her family, her farm, her community and agriculture in general. Last year's winner was Bette Lu Lerwick of Wyoming.
"From the outpouring of entries we've received thus far, it's clear that farm moms are loved and appreciated by their families, students, neighbors and friends," says Consuelo Madere, America's Farmers spokesperson. "I encourage everyone whose life has been impacted by a farm mom to visit AmericasFarmers.com and nominate her before the contest ends this month. It's one small way to say 'thank you' and 'Happy Mother's Day' to that extra-special farm mom."
To nominate your mom, you are asked to describe in 300 words or less how she represents the caring, values and hard work that embody the family farm way of life. You have about ten more days to do that and you can click here for the on-line entry form.
I'm sure it is a tough decision for the judges every year to pick just five farm moms around the country to compete for the overall Mom of the Year – and even harder for the online voters to pick just one! All farm moms are the best!