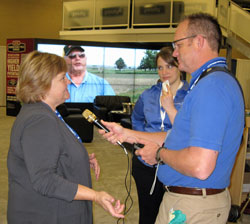 During the Commodity Classic I met April Hemmes, 2011 Midwest Region winner of the Monsanto Farm Mom of the Year contest. Thanks to Janice Person for taking the photo.
April is the farmer in the family. Her husband works at a job in town. She was nominated by her daughter. Here's an excerpt of the essay she wrote for the nomination:

Hi, I'm Ruth. I'm 16, and I would like to nominate my mom, April Hemmes, for Farm Mom of the Year. My mom IS the farmer in our family. My dad works in town, and mom operates our family's century farm, totaling 1000 acres, and has a 30-head cow/calf herd. She makes all the decisions from planting to harvest, bulls to banking.
. . . She also found time to raise funds for my junior prom and took me on a Caribbean cruise! She always tells me "Do what you love doing – happiness and success will follow." I know this is true because my mom is the most enjoyable and funniest person know.

April is very passionate about farming and is a great advocate for farming. She tells the full story of her nomination in my interview with her: Interview with April Hemmes
The 2012 Farm Mom of the Year Contest is now underway.