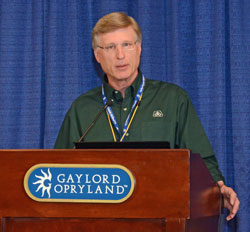 During Commodity Classic Pioneer Hi-Bred held a press conference titled, "Innovations in Drought Tolerance: Delivering Rain or Shine." This featured feature Pioneer's research innovations in drought-tolerant corn hybrids, 2011 performance data on Optimum® AQUAmaxTM hybrids, and improved management options for growers. On hand was Jeff Schussler, Senior Research Manager.

Results from actual on-farm trials in 2011 show Optimum® AQUAmaxTM corn hybrids from DuPont business Pioneer Hi-Bred provide a yield advantage for growers over competitive hybrids in water-limited environments as well as under more favorable growing conditions.
Field evaluations of the Optimum AQUAmax hybrids also are providing Pioneer corn breeders with an improved understanding of why these products perform better in drought conditions, giving researchers greater confidence as they move forward to develop still better products for producers.
Speaking at a press briefing at the Commodity Classic, Jeff Schussler, Pioneer senior research manager, said these research results show that Pioneer breeders have selected positive native traits to develop Optimum AQUAmax hybrids.
"It's very rewarding to see large-scale, on-farm field testing validate the performance of Optimum AQUAmax hybrids," Schussler says. "And we have begun to gather a solid understanding of the mechanisms of drought tolerance within these hybrids as we advance development of future Optimum AQUAmax hybrids."

You can find the full release here.
Listen to or download the press conference with Jeff here: Pioneer Press Conference
2012 Commodity Classic Photo Album
Coverage of the 2012 Commodity Classic Show is sponsored by BASF and New Holland