Missouri Corn Growers president Billy Thiel is a membership machine for the National Corn Growers Association.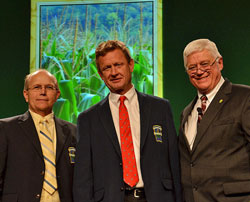 During the NCGA Awards banquet at the 2012 Commodity Classic, Billy became the 17th member of the Walter Goeppinger Recruiter Hall of Fame, an honor which comes with a classy new blazer.
Billy led the way in recruiting new members for the NCGA in 2011, adding 811 Missouri corn growers and helping to push NCGA to a record membership of 37,l30. He also helped Missouri Corn get first place for both the largest number of new members and the largest percentage increase for the year.
Billy is pictured here in the center between Mickey Peterson of Minnesota, one of the first Hall of Famers, and NCGA president Garry Niemeyer.
2012 Commodity Classic Photo Album
Coverage of the 2012 Commodity Classic Show is sponsored by BASF and New Holland