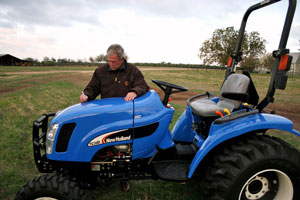 Jay Leno's Lil Tug going to auction with President George W. Bush's signature on it! Here's a photo of the sighing on his ranch from his Facebook page.

Talk show host Jay Leno used it in his famous Garage. Former President George W. Bush put his signature on it. And this Saturday, January 21, it will go on the auction block as part of New Holland Agriculture's "True Blue Salute" program in support of veterans.
'Lil Tug, the New Holland Boomer™ tractor that's been working hard in Jay Leno's Garage the past five years, will be auctioned off at the famed Barrett-Jackson Collector Car Auction in Scottsdale, AZ, on Saturday evening – with all proceeds going to the Fisher House Foundation, best known for its network of homes built on the grounds of major military and VA medical centers where families can stay while their loved ones are receiving treatment.
The auction will be broadcast live on SPEED TV, with the 'Lil Tug scheduled to go on the block Saturday at 7:30 p.m. Mountain Time (8:30 p.m. CT/9:30 p.m. EST).
The tractor auction marks the culmination of New Holland's "True Blue Salute" program, which launched on Veterans Day in November and continues through Saturday – offering U.S. veterans and military personnel a $300 discount on the purchase of New Holland Boomer™ compact tractor models 30, 35, 40 or 50 purchased in North America. New Holland is also donating $100 to the Fisher House Foundation for every Boomer compact tractor sold in North America during the discount period.
In the days leading up to the auction, 'Lil Tug (as Leno's crew nicknamed the tractor) has been getting publicity in a variety of places, including: