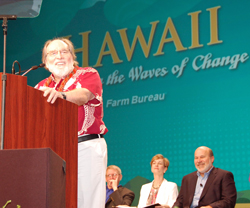 Hawaii Governor Neil Abercrombie welcomed members of the American Farm Bureau Federation on Sunday with open arms and shared his vision of agriculture for the Aloha State.
"You have to have an integrated approach to water, to land and to agriculture," Abercrombie said, as he talked about the rich Polynesian history of the state and the concept of Ahupuaa – from the mountains to the sea, what he calls the "synthesis of understanding of the environmental foundation that would provide the prosperity for paradise."
The governor noted that the state has moved away from the monoculture of sugarcane and pineapple plantations to a 'modern concept of agriculture that was entrepreneurial and innovative and geared towards becoming as self-sufficient as possible."
Abercrombie says Hawaii imports more food than in past decades. "We are within a few days of being unable to sustain ourselves if we are not able to move towards more self-sustenance when it comes to agriculture," he said.
To that end, the governor came up with a comprehensive plan for the state that included what he calls "an agricultural renaissance" in Hawaii. "Food security is the primary goal," he said. "Entrepreneurial farming and jobs, preserving and advancing rural communities, sustaining natural resources, agricultural resources and the planning and commitment that will bring that all about."
Listen in to Governor Abercrombie's comments here: Hawaii Governor Neil Abercrombie

AFBF 93rd Annual Meeting Photos