It was just a year ago that Cindy interviewed Mark Gale, Charleston|Orwig, while attending World Dairy Expo. That started a series of ZimmCasts with the leadership of advertising and public relations agencies. Now we've come full circle.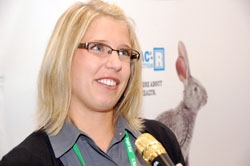 At this year's World Dairy Expo I visited with Brittany Unterweger, Account Supervisor for the agency. The agency was having a very busy week since they work with about ten different clients that are involved with World Dairy Expo. Brittany says the agency focus goes beyond the dairy industry though, into overall food systems, "from farm to plate, from producer to consumer." She says there has been an internal shift within the agency to move beyond just agriculture. Interactive has also grown tremendously and that includes app building and the further development of their blog, Field Assignment.
Brittany says that she's excited to have a more holistic approach with the food systems concept so they can helpt their clients see the big picture. She says their client list has been growing and that it's an exciting time at Charleston|Orwig.
Listen to my conversation with Brittany in this week's ZimmCast: Visiting With Brittany Unterweger
Thanks to our ZimmCast sponsor, GROWMARK, locally owned, globally strong, for their support.
The program ends this week with music from Music Alley, called "Make You Happy" by The Milkmen. I hope you enjoy it and thank you for listening.
The ZimmCast is the official weekly podcast of AgWired. Subscribe so you can listen when and where you want. Just go to our Subscribe page.

2011 World Dairy Expo Photo Album
World Dairy Expo coverage sponsored by Charleston Orwig Dairy Business Association Alltech Hoard's Dairyman Accelerated Genetics