An amendment to end the ethanol blenders tax credit (VEETC) passed the Senate today by 73 to 27, a vote that some agricultural groups applaud while some denounce, while the ethanol industry says it is unlikely to matter.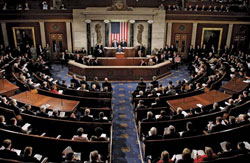 "Today the Senate voted against rural America and domestic, renewable energy, and in favor of more foreign oil," said National Corn Growers Association President Bart Schott of North Dakota.
The Renewable Fuels Association calls the vote disappointing but "ultimately inconsequential" since the underlying economic development bill to which this amendment is attached is "unlikely to make it to the president's desk." American Coalition for Ethanol (ACE) Executive Vice President Brian Jennings added that the votes are "symbolic and will not become law. The ethanol industry notes that just last month, the Senate voted to protect tax subsidies for the oil industry. "Ironically, the United States Senate has spent the better part of a week on an amendment that is unconstitutional and going nowhere, even while the news pours in that OPEC has hit a high-water mark of $1 trillion in revenues," said Growth Energy CEO Tom Buis
U.S. Agriculture Secretary Tom Vilsack says the Obama administration opposes an abrupt end to the VEETC. "We need reforms and a smarter biofuels program, but simply cutting off support for the industry isn't the right approach. Therefore, we oppose a straight repeal of the Volumetric Ethanol Excise Tax Credit (VEETC) and efforts to block biofuels infrastructure programs."
On the other side of the corn field, National Cattlemens Beef Association (NCBA) President Bill Donald called the vote "a giant step toward leveling the playing field for a bushel of corn" noting that cattle producers "support our nation's commitment to reducing our dependence on foreign oil. But after 30 years and more than $30 billion in taxpayer support, the day has come to let the mature corn-based ethanol industry stand on its own two feet."
A coalition of groups, including food retailers, poultry organizations and environmental interests also applauded the vote as "the start of a new era for U.S. biofuels policy."
Immediately after the vote to end the VEETC, senators defeated an amendment that would have stopped federal funding for ethanol blender pumps by a vote of 41 to 59. At the same time, the House approved an amendment to the ag appropriations bill for the same thing by 283 to 128. The appropriations measure must still go through the Senate and is likely to change there.