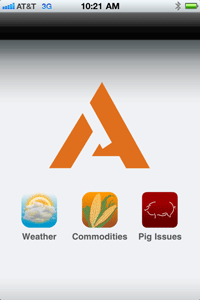 Now Dr. Pearse Lyons can say, "There's an app for that." That app is the Alltech iPhone App. It was just announced this morning during the Alltech International Symposium. I've got it on my iPhone.
The app:

Helps pig producers search for information about swine health issues, environmental concerns and pork quality. Includes customizable commodity listings and local weather forecasting.

You can get it in the iTunes store with this link or just search the keyword Alltech.
Follow the action on the Alltech Innovations Blog, including photos, interviews and there will be live streaming of certain sessions.